August 2021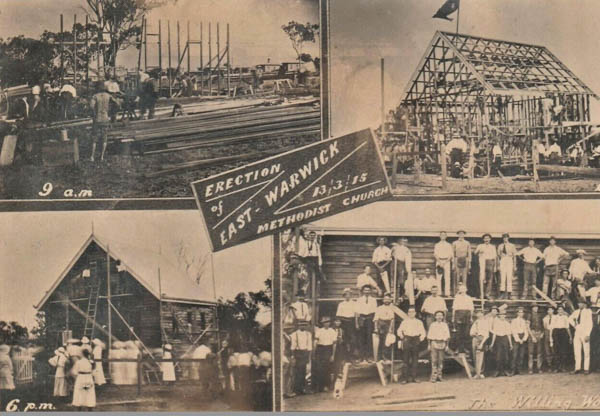 (Image source https://www.flickr.com/photos/70994841@N07/47748828911)
The East Warwick Methodist Church was built in a day on 13 March 1915. It was probably a record for the construction of a church in Queensland.
The Warwick Examiner recorded the construction of the church.
For the first time in the history of Warwick a church was built in a day on Saturday. The need for a Church at East Warwick, where there are about 32 Methodist families, has made itself insistent, and it was decided that the only method of erecting it in a single day should be proceeded with. The arrangements were left in the hands of Mr. D. J. Hutchings, and he had command of any amount of voluntary labour.
At 6 a.m., on Saturday, the site was pegged out, and about 25 workers commenced operations. This number was soon added to, and it was quite a sight to see the men with spud-bars engaged in the arduous labour of sinking the post-holes. By 7.15 am all the blocks were in the ground and levelled, thus enabling Mr. G. P Barnes to perform the stump capping ceremony. A halt was then called for breakfast, and at 8 am work was resumed. At about 10.45 the whole of the frame-work was erected, and the roof pitched.
Morning tea was then supplied, after which the floor and frame-work were made ready for the boards. After lunch work began in earnest. The workers, whose number had now been increased to 40, were divided into two batches. One commenced on the outside walls, while the second was engaged with the lining and ceiling.
The plumbers also started operations on the roof. About 5.45 a further halt was called, and the workers assembled outside the building, where a group photograph was taken by Mr. M. H. Poulsen.
Mr. G. P. Barnes took the opportunity to thank Mr. D.J. Hutchings, and his loyal band of workers for the wonderful amount of work put forward that day. It was, he believed, a record day's work for Warwick
Thus, by 7.15 p.m., the new church stood erected and painted, wanting only a few minor details in the hardware line to be attended to.
The new church was erected at a cost of about £110, measures 26 ft. x 21 ft, and is constructed of hardwood weather boards on the outside, being fully lined and ceiling inside. Ventilation has been amply provided for, there being no less than nine awning windows, while there is a large double door At the front and a smaller door at the back. The colour scheme in the bodv of the building is dark brown, the facings being finished in white. Occupying as It does, a commanding site on high ground, the new church is certainly a great tribute to the zeal and energy of the Warwick Methodists.