Wednesday, August 15th, 2018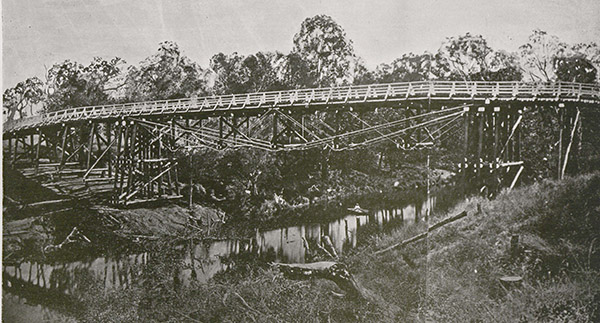 Alligator Creek is a tributary of the Fitzroy River about 30 kilometers north of Rockhampton near Yaamba. In 1877 a bridge was built across the creek to improve travel for the growing volume of traffic as pastoralists established runs to the north of Rockhampton. It was a most unusual and innovative structure that has featured briefly in the histories of Australian bridges. Colin O'Connor in Historic Bridges of Australia notes that it was the first known Australian designed long span bridge. Greg Nolan in his thesis The forgotten long span bridges of Australia commented that it was a remarkable timber girder bridge 'with a complicated system of under-strutting and diagonal metal ties'. Neither O'Connor or Nolan mention a designer or the correct date.
The bridge was opened in April 1877 and was designed by Alexander Jardine, the Engineer of Roads for the Central District (Rockhampton Bulletin 26 May 1877). The bridge was of a Fink truss design. Albert Fink registered the design with the United States Patent Office in 1854. It was one of a number of early patented solutions to the problem of how to build long spans to avoid the expense of building piers.
When a bridge was needed to cross Alligator creek in the mid 1870s, Jardine opted for a bold and daring solution. He rejected the traditional approach of a trestle bridge with piers and instead opted for what would have been considered an innovative solution.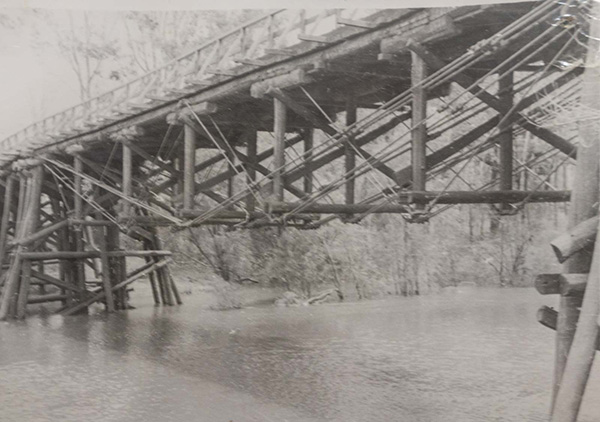 Alligator Creek bridge 1920s
The bridge was in operation for 83 years and was only demolished when it could no longer take the volume and weight of traffic.
Alexander Jardine (1843-1920) features in Don Watson and Judith McKay's Queensland Architects of the 19th century. Jardine was the son of John and Elizabeth Jardine, early residents of the Rockhampton district. At the age of 21 years, he was a member of an expedition party from Rockhampton to Somerset at Cape York. He later became a surveyor in the Office of the Engineer of Roads for the Northern District. In 1874 he designed, in conjunction with Frederick Byerley, the Engineer in charge, a timber rail bridge over the Dawson River which was the longest timber bridge in the colony. The bridge comprised timber piers with laminated arches of spotted Gum. Jardine later became Chief Engineer of the Harbours and River Department.
In 1881 Alexander Jardine married the well-connected Charlotte Elizabeth Mosman. Her brothers-in-law included Sir Thomas McIlwraith and Sir Arthur Palmer, who both served terms as Premier of Queensland. Her brother, Hugh Mosman, was a member of the Legislative Council. Jardine died in 1920 in London.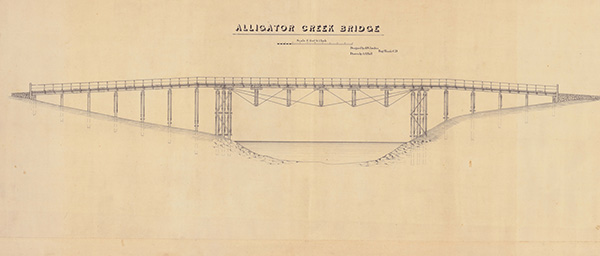 Plan of Alligator Creek bridge. Remarkably original drawings survive in the Queensland State Archives.
For a detailed view of the plan click here.